(This is a guest post by Mr. 1500 from "
1500 Days to Freedom
" - an admirable FI blogger who sees the bigger picture in life. Oh, and did I mention that he'll be financially free in just another 2 years? Let's learn something from someone who is far ahead in the journey.)
One thing I frequently notice is that most folks don't figure out money until it's too late. If you don't start saving until you're 40 or 50, the ship has already sailed and you have to do a lot of swimming to catch up. You've lost decades of time that your money could have been working hard on your behalf. However, if you figure out that you need to save when you're in your 20's, safely exiting the workforce at 50 or even much younger suddenly becomes a possibility.
I'll explain the numbers in a moment, but first I'll share a couple stories.
Mr. 22 Year Old Buys a New Corvette
My first job out of college was in the IT department of a large retail company. There were a lot of interesting people who worked there, not necessarily in a good way. Almost everyone seemed to be in competition with each other to see who had the
nicest car
or newest gadget (hello Palm Pilot!) Clunker-driving
Bad Car Bill
was a rare exception.
Every summer, new hires fresh out of college would start. I clearly remember one of them who I'll call "Dan." Within a month of getting hired, Dan went out and bought a new Corvette. Not just any Corvette, but a red convertible. To make matters worse, it was an automatic*.
Dan clearly had no idea what he was doing with money. At the time in his life that it's absolutely most critical to save, he did the exact opposite, taking out a huge loan to buy a silly status symbol.
Old Folks Finally Learn Money
I wrote about the
most valuable day of my life
a while ago. It was a seminar run by a non-profit organization that taught the basics of investing. No get-rich-quick scheme, just work hard and put your money in diversified investments as early as you can. Luckily I was just 20, so this lesson came at precisely the right time in my life. I was just about to enter the workforce where I could really start to save. However, I was one of the few young ones in the room. Almost everyone else was at least 50 and some were pushing 70.
I often think back to this day and the people there. Money concepts should be taught to young students as a regular part of schooling. Let's try to
get through to folks
when they're 18 or 22 instead of 50 or 65.
How To Do It Right
In both stories, the people have it all wrong. My just-out-of-college, Corvette-driving friend should have held on to his clunker and attended the money seminar. The old folks who were at the money seminar should have learned about investing in their 20's instead of 60's. Allow me to show you a couple graphs that show the incredible power of saving early.
The first graph shows a 30 year old who has saved $50,000. He never adds another cent to his investments. After earning 9% interest for 30 years, he'll have $663,383: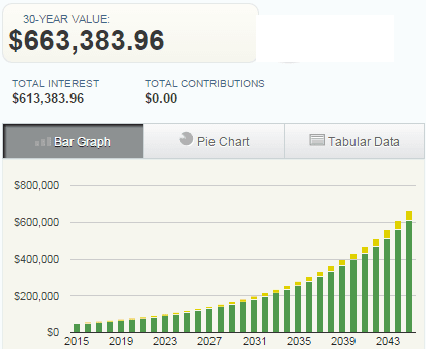 The second graph shows someone who waited until
40
to accumulate the same
$50,000
. Because he started a decade later, at the same age of 60 he'll have just
$280,220:

The difference become more pronounced if we go out another decade. The first guy will have over $1,570,000 while the second guy, just $663,000.
Always remember that seemingly small decisions early on in life
can have big consequences
down the road.
Early Retirement Is Nothing More Than Flipping Your Life Upside Down
We all know retirees who live a sparse existence for fear of running out of money. This sounds like a horrible way to live. I hate worrying about money. I also hate the thought of
working when I'm 80

.
I have a proposal for you; a way to avoid the nasty scenario of being an octogenarian Walmart greeter.
Turn your life upside down. Live a sparse existence when you're in your 20's or 30's. Put the saving gas pedal to the floor and don't let up. Save until it hurts. Then save some more. Put the money snowball in motion. After a decade or so of doing this, you can let off a bit on the gas as you watch that snowball get bigger and bigger.
Don't make excuses either. You may love your job now, but nothing is forever. Wouldn't it be nice to be able to jump on a sailboat for a year. Or perhaps start every day with a hike or a good book. How wonderful would it be to be able to walk your children to and from school every day? The thought of being able to take my life in any direction I please is a very pleasant one.
And, if you're 70 and still have a hankering for a
fancy
hard-working car
, go get that Corvette. If you've saved very well, maybe even a Ferrari.
However, never forget that
your freedom
trumps any material possession.
*A Corvette with an automatic transmission is sacrilege.